Die Kränken: Sprayed with Tears


ONE National Gay & Lesbian Archives at the USC Libraries
February 11 – April 29, 2017


Die Kränken is a group of artists formed in 2015 in response to the extensive holdings on gay motorcycle clubs in Southern California housed at ONE National Gay & Lesbian Archives at the USC Libraries. Taking its inspiration from these outlaw clubs, die Kränken's projects examine the significance and complicated history of these motorcycle groups through a variety of multimedia and performative strategies. Frustrated by gay assimilationist aspirations, die Kränken strives for new strategies of queer radicality. The group's name, translating to "the sick" in German, references both the historical pathologization of homosexuality and the pandemic of a generation of gay men, while nodding to the Blue Max, a local motorcycle club founded in 1968 that fetishized Prussian military uniforms and culture. Die Kränken sees a link between these clubs and the contemporary alienation felt in response to culture at large.

The exhibition

Die Kränken: Sprayed with Tears

is the culmination of two years or work by the group. The exhibition's centerpiece is the video

Sprayed with Tears

, a re-telling of the Blue Max's signature performance "The Rose of No Man's Land." In the original Blue Max presentation, a WWI fighter pilot is shot down and brought back to life by a Red Cross nurse performed in drag by a club member. Die Kränken's version draws on the iconography and DIY visual aesthetics of the original performances while complicating the play's narrative arch. The exhibition also includes a video memorializing the raid of The Black Pipe, a gay leather bar raided by the Los Angeles Police Department in 1972; a series of prints reproducing imagery from the Blue Max Motorcycle Club Collection at ONE Archives by artists Jonesy and Jamie C. Knight; and the presentation of screen-printed handkerchiefs that re-imagine the Hanky Code, a form of signally sexual desire commonly utilized by gay men in the 1970s.

Die Kränken is led by artists Jonesy and Jaime C. Knight with contributions by Luke Munson, Matthew McGarvey, James Krewson, Kelly Marie Martin, Jacob Greenberg, Robert Acklen, Tim Jackson, Steven Rimlinger, James Caperton, Lindsey Taylor, and Stephen Fishman.

Find information about the catalogue for

Die Kränken: Sprayed with Tears here.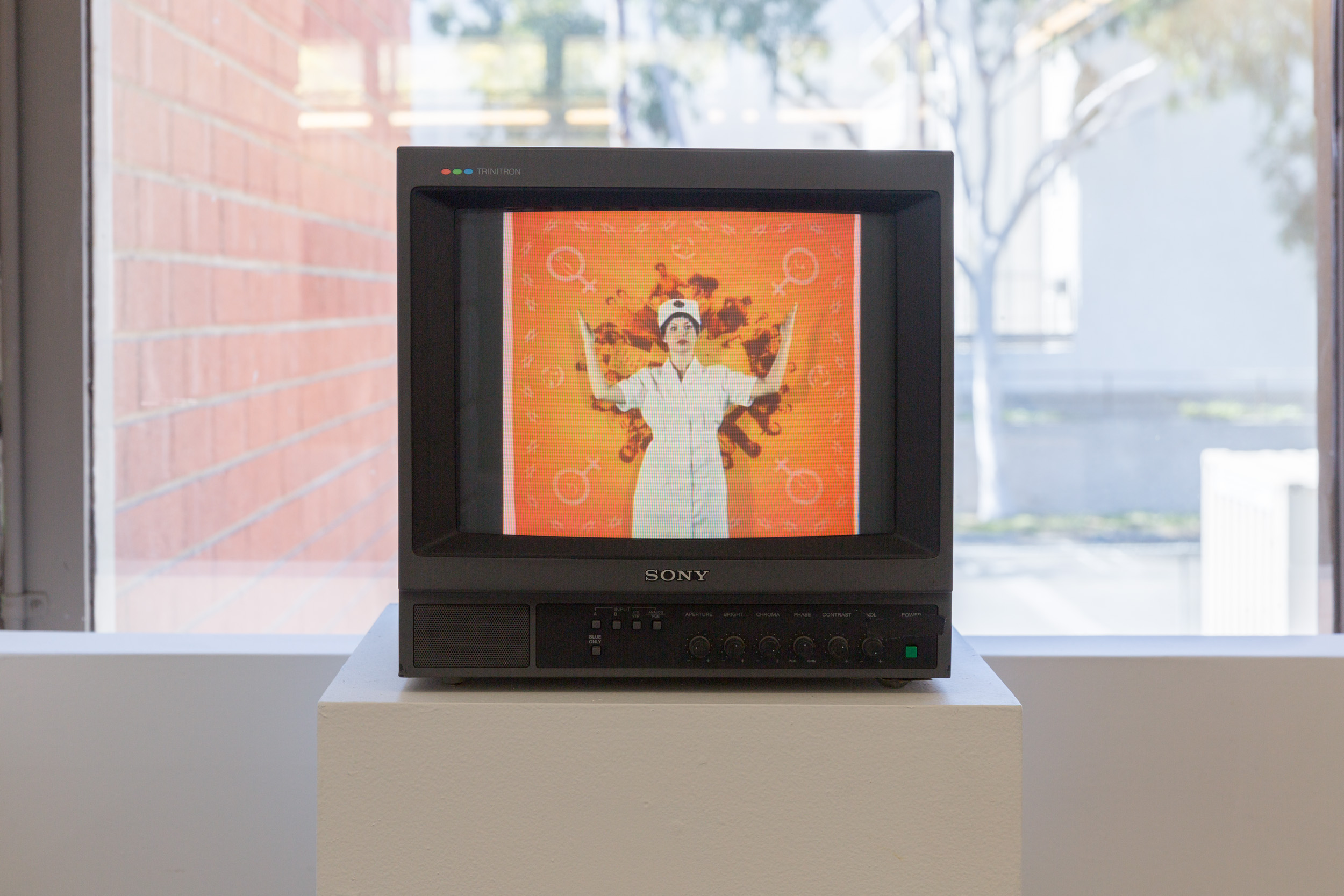 Design by die Kränken with video stills from Sprayed with Tears, 2016. Courtesy of die Kränken

Installation views of Die Kränken: Sprayed with Tears. Photos by Ian Byers-Gamber. Courtesy of ONE National Gay & Lesbian Archives at the USC Libraries